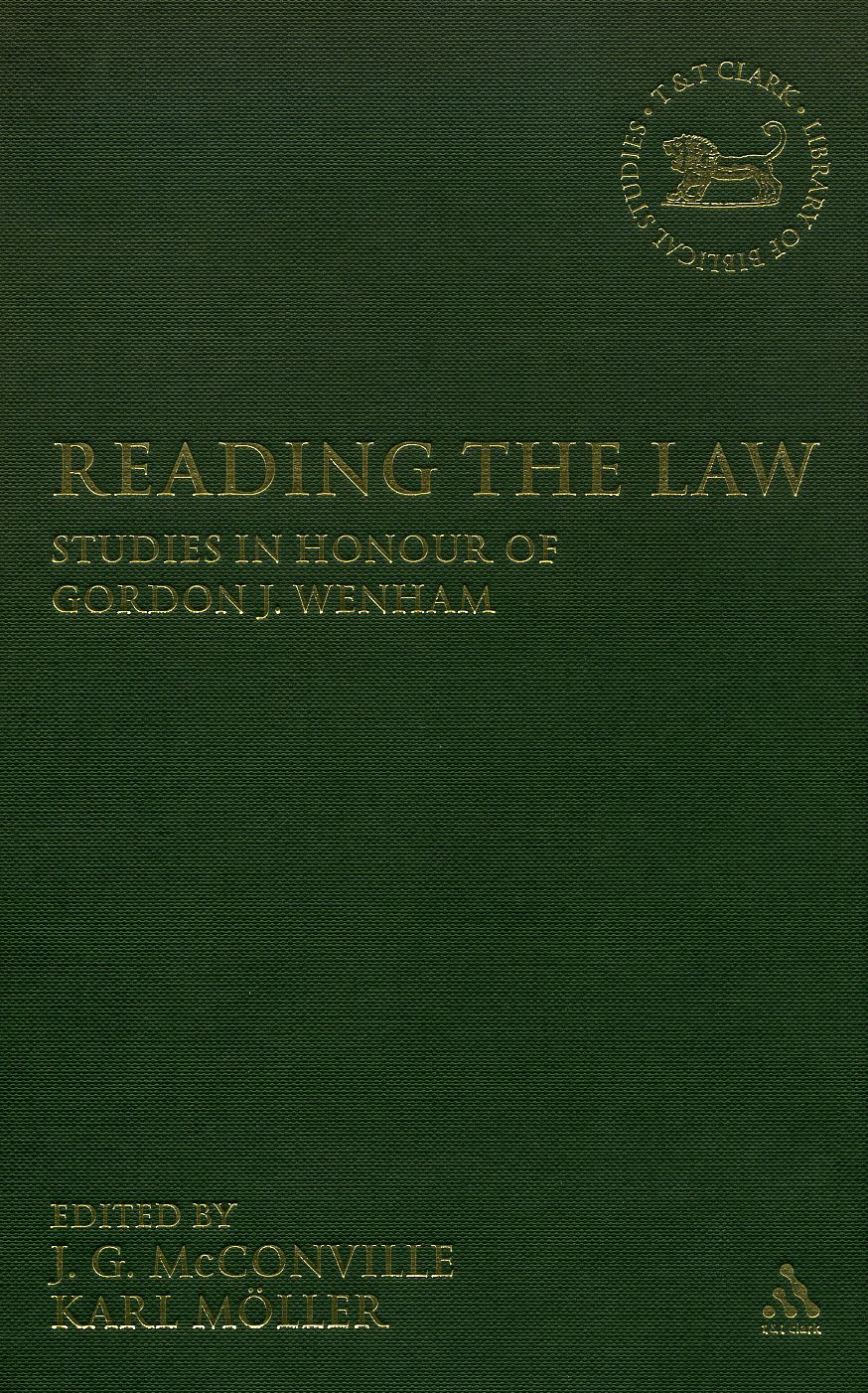 J. G. McConville and Karl Möller (eds),
Reading the Law: Studies in Honour of Gordon J. Wenham
(Library of Hebrew Bible/Old Testament Studies, 461; New York: T & T Clark International, 2007)
This book is a Festschrift for Prof. Gordon Wenham. Its chosen theme is intended to reflect his central interests in his long career of writing on the Old Testament, in which he has exemplified the highest standards of scholarship, but also written for practitioners of biblical interpretation. The topic of 'reading the law' has three aspects which will be treated by the various contributions, namely: 1. Reading the Pentateuch: Pentateuchal criticism, narrative readings, rhetorical-critical readings; 2. Reading the Law: the law codes in historical and/or literary context, anthropological readings, the law in relation to prophets, wisdom, worship; 3. Reading the Bible ethically: e.g. ethics of marriage, war.
Reviews
"… a worthy set of essays collected in honor of a very worthy scholar."
Joe M. Sprinkle,
Stone-Campbell Journal
Contents
Part I: Reading Pentateuchal Law
Being a Man in the Book of the Covenant
David J. A. Clines
'Fellow Citizens': Israel and Humanity in Leviticus
J. G. McConville
Commanding an Impossibility? Reflections on the Golden Rule in Leviticus 19:18b
Nobuyoshi Kiuchi
The Case for the Pre-Exilic and Exilic Provenance of the Books of Exodus, Leviticus and Numbers
Jacob Milgrom
Part II: Reading the Law in the Prophets
The Meaning of תורה in Isaiah 1–39
Ronald E. Clements
Torah in the Minor Prophets
Thomas Renz
The Trial of Jeremiah
Raymond Westbrook
Part III: Reading the Law in the Writings
Reading, Singing and Praying the Law: An Exploration of the Performative, Self-Involving, Commissive Language of Psalm 101
Karl Möller
The Ethics of Lament: Lamentations 1 as a Case Study
Robin Parry
The Torah and History in Presentations of Restoration in Ezra–Nehemiah
H. G. M. Williamson
Part IV: Reading the Law for Theology
The Theology of Place in Genesis 1–3
Craig G. Bartholomew
The Regal Dimension of the תולדות־יעקב: Recovering the Literary Context of Genesis 37–50
T. Desmond Alexander
On Learning Spiritual Discipline: A Reading of Exodus 16
R. W. L. Moberly
The Week That Made the World: Reflections on the First Pages of the Bible
Robert P. Gordon
Part V: Reading the Law and History
Going Down to Sheol: A Place Name and Its West Semitic Background
Richard S. Hess
The Tablets in the Ark
Alan Millard
Memory, Witness and Genocide in the Book of Joshua
Pekka Pitkänen
Towards a Communicative Theology of the Old Testament
J. W. Rogerson