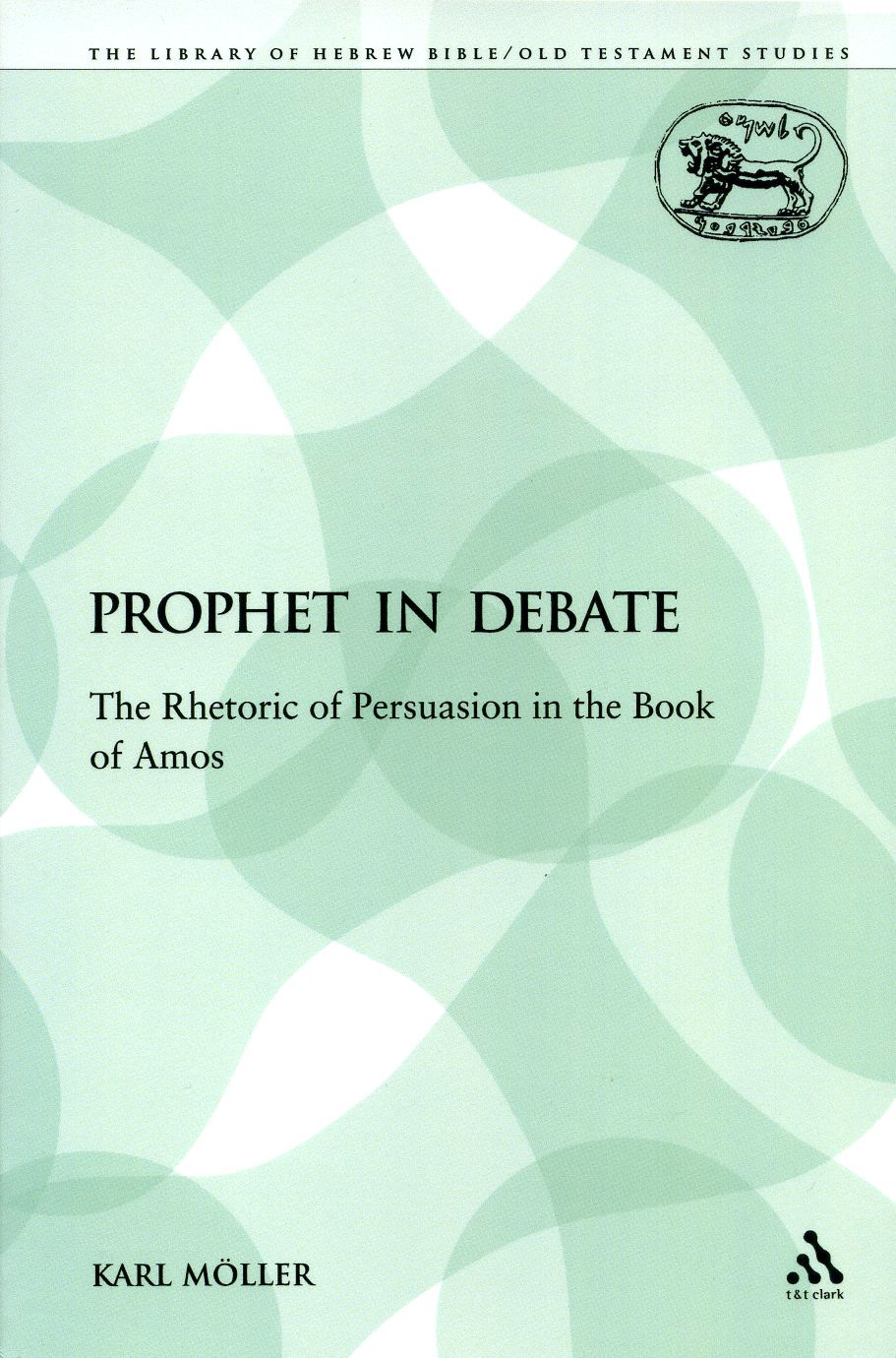 Karl Möller,
A Prophet in Debate: The Rhetoric of Persuasion in the Book of Amos
(Journal for the Study of the Old Testament Supplement Series, 372; London: Sheffield Academic Press, 2003) [366 pages]
This is an investigation of the literary structure and rhetorical challenge that prompted the book's production. It argues that the book of Amos captures and presents the debate between Amos and his eighth-century audience. When read in the light of Israel's fall, the presentation of Amos struggling (and failing) to convince his contemporaries of the imminent divine punishment functions as a powerful warning to subsequent Judaean readers.
Reviews
"This is an important book on a stunning prophet (and his galvanizing Hebrew) on several counts. … the footnotes and bibliography display a massive acquaintance with the study of the book of Amos over the past century. … our author is a skilled Hebraist with penetrating insights into the organizing structure of the entire book … Möller makes a very persuasive (he's a good rhetorician!) case for retaining chapter 9 as coming from the prophet Amos. … While biblical-theological implications are left to the biblical-theological student, Möller lays the foundation with his superb work on the text."
James T. Dennison, Jr,
Kerux
"Möller's work on Amos is careful, thorough, integrative, and thoughtful. He has read widely, both in traditional scholarship and in literary theory. … Sensible and pragmatic, the work resists being drawn into ingenious discoveries of textual markers or the esoteric jargon of literary theory and continues throughout to inquire into the persuasive function and effect of the text. … the work … provides a solid platform for further study of the fascinating book of Amos."
Patricia K. Tull,
Review of Biblical Literature
"In this monograph Karl Möller offers a thorough demonstration of the nature and use of rhetorical criticism as applied to the prophetic literature. … The introduction offers astute hermeneutical reflections on the nature of rhetorical criticism in general. … Möller's work represents a key study in the rhetorical criticism of prophetic material. It offers a thoughtful perspective on the task and methods of rhetorical criticism, presenting each step the rhetorical critic must take in evaluating the argumentation, purpose, and potential effectiveness of a biblical book. Moreover, because of its compilation of other rhetorical approaches to the book of Amos and detailed analysis of Amos 1–4, it would serve as a fine reference on recent approaches to this prophetic book."
David G. Garber,
Review of Biblical Literature
"… interesting and appealing."
Reviews in Religion and Theology
Contents
Part I: Reading Amos – A Communication-Theoretical Approach
Introduction: Amos and the Rhetoric of Persuasion
Chapter 1: Rhetorical Structure
Chapter 2: Rhetorical Situation and Strategy
Part II: The Rhetoric of Amos 1–4
Chapter 3: Amos 1–2
Chapter 4: Amos 3
Chapter 5: Amos 4
Conclusions